The Bands
Steven McGrattan
I'm Steve. I've been a frontman in a couple of bands before, but have always been out on my own with the guitar. I've played the joiners, the back of a trailer, an inflatable igloo and even played a gig 65 metres under the sea in octopuses garden in the shade.
Playing an eclectic collection of stripped back hits through the ages from The Kinks, The Who & The Beatles to Oasis, The Verve & Arctic Monkeys.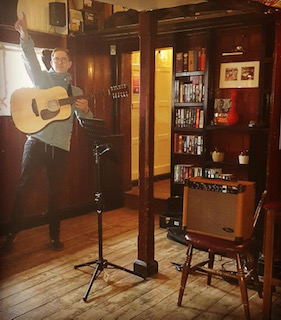 Loonee Toons
The South Coasts original and hugely popular Ska band formed in Eastleigh, Hampshire in 1990, a bunch of local lads who wanted to play some Ska, and more importantly have fun doing it.
After a few line up changes in the early days, they quickly settled and began to establish themselves as one of the most fun and energetic bands along the South Coast. Throughout the decade they played regular sold out shows at The Brook, The Wedgewood rooms and many more, and there were memorable shows at The Mayflower Theatre, Portsmouth Guildhall, The Marquee in London and numerous festivals up and down the country.
Support slots with Desmond Dekker, Laurel Aitken, Bad Manners, The Selecter, Ian Dury and the blockheads and many others were massive highlights for the boys. In fact The Loonees became the "go to" band for Bad Manners when they needed Dep Musicians, with some of the lads going on to become permanent members of Busters band.
The band called it a day in 1999, after feeling they had taken it as far as they could.
Fast forward 22 years, after some hugely successful reunion gigs, selling out the Brook in Southampton three Saturdays in a row in 2021 the band had such a great time they've decided to carry on skanking!
So get ready for a night of classic 60s 70s Ska, 2 Tone, unusual covers and a very healthy portion of classic Loonees originals! "DON'T BE SHY"
The Modules
Lead Singer - Dan Kent
Lead Guitar - Declan Byrne
Drums - Jon "The Frog" Froggatt
Keyboard - Rick "Rocket Man Rick" Devereux
Bass - David "Dunk" White
Mod/Britpop/Northern Soul/Rock'n'Roll
High energy, Highly entertaining live music from the modules, bringing you some of the best of british rock n roll, soul and classics.
We enjoy what we do and always want to give the audience a show. You have good time, we have a good time.
Supported Bad Manners, The Jam'd, Small Fakers and played alongside some of the best bands the South has to offer. Feed that soul!
Marquis Drive
From the deepest, darkest parts of the west midlands comes the sound of frustration, dreams and hard work. Upbeat to the point of euphoria, anthemic choruses set amongst verses of everyday life. Yes, Marquis drive just might help you to escape the 9 to 5 and remind you that there is a Friday just around the corner.
Formed under a wandering star somewhere next to a Weatherspoon's the 7- piece indie band are born of a mutual love of football, clobber, and of course great music. They boast a truly epic sound; big guitars, big vocals and big percussion. Having built up a strong reputation up and down the country supporting major acts such as; Ocean Colour Scene, The Farm, Reverend and the Makers, The Wonder stuff and many more, Marquis drive have delighted crowds with a set crammed-full of powerhouse indie anthems.
Their first release "Proud" was released on 29th February 2020 with Creation23 records, it reached number 2 in the official vinyl charts. John Kennedy and Chris Moyles of Radio X are fans of the track, with Moyles playing it on the morning show. This was just before the world starting shutting down and the band had decided to lock themselves down in a local Weatherspoon's.
Gold Steppers
Gold Steppers are soulful, sincere, suave with a touch of class. Writing their own tunes, they aim to spread a POSITIVE message and celebrate and capture the golden era of ska and reggae, echoing the sounds of The Skatalites, Alton Ellis, and Toots & the Maytals.
It is unique to find a new band that has an existing fan base across the country impatiently waiting to witness their next move and what they have to offer. Their first official release of 2020 has been viewed over 46,000 times - Facebook.
Fryern Wreck
Fryern Wreck rose from the ashes in 2016 to do a gig to raise some cash for a friend of ours suffering from a serious heart condition.
The line up had changed a bit with the introduction of a folk bassist and a punk drummer but all in all it worked and we have gone on to establish ourselves in the local music scene even getting Jason Richardson out of retirement to play at a few of our gigs!
Now look at him, back on the stage with the loonies!
Maybe it was us that relighted the spark for that lot to give it another very successful go.
Our members are:
Ads Colliss on Guitar
Pete Bartlett on Keyboards
Dave Thompson on the Drums
Ash Churchill on Bass
Kev Bird on Vocals.
The Mucky Fingers
Wayne McFadden ( The Indie Pavarotti) - Lead Vocals and Calendar pin up boy
Lee Elliott - Guitars and Vocals and a face for radio.
Acoustic covers duo making songs by the following our own - Verve, Oasis, Enemy, James, Stereophonics, Courteeners, Kasabian, Shed Seven, Pulp, The Jam, Seahorses, Iggy Pop.
Formed in 2017 in a kitchen somewhere, somewhere, in a council estate in Hampshire, a long term friendship became a musical dream...
A stop start dream that nearly shook the world in 2020, after a public display of support from Rik Witter, only for all our gigs to be cancelled when the rona hit.
Nearly became the most famous band never to play a gig.
The postponement of these gigs proved to be a blessing, allowed us to get tighter, turn the Indie classics into our own and slowly building a following who appreciate the demograph we aim to penetrate musically.
It takes time for people to fall in love with you... but it's inevitable.